Who is He in yonder stall,
At whose feet the shepherds fall?
'Tis the Lord! O wondrous story,
'Tis the Lord, the King of Glory!
At His feet we humbly fall,
Crown Him, crown Him Lord of all!
Who is He in deep distress,
Fasting in the wilderness?
Who is He to whom they bring
All the sick and sorrowing?
Who is He on yonder tree
Dies in grief and agony?
Who is He who from the grave
Comes to succor, help and save?
Who is He who from His throne
Rules through all the worlds alone?
From Christmas we move to "the rest of the story" – the purpose of Jesus' coming to Earth. The short verses of this song outline the main events of Jesus' life in Israel over two thousand years ago, including His resurrection which we celebrate at Eastertime. The author,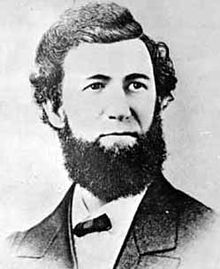 Benjamin Hanby, had a lifespan similar to that of Jesus – only thirty-six years. Hanby was an American minister's son who graduated from Otterbein University, serving as an agent for that college, and later as the principal of an academy in Ohio. He was a pastor for only two years, and then opened a singing school for children. Finally he worked in the music publishing business, helping compile song books as well as writing sixty-eight songs himself.
WORDS AND MUSIC: BENJAMIN R. HANBY
S.A. SONG BOOK, 1987 EDITION, #104; 2015 EDITION, #158
REFERENCE: USAWEST.ORG