September, (after labour day) through June, Sunday services start at 11:00 AM, 10:30 AM in the summer months.

Parking and Directions?
Join us in person any Sunday morning, there is ample free on-site parking. Most people arrive 15 – 20 minutes before the service starts to greet each other, have coffee or tea, and get seated, and often there will music starting about 10 minutes early. There are 2 entrances, one at the front of the church at the roundabout/drop-off area, and another at the rear of the church. Please note that for special events and Holiday services, parking can fill earlier, with overflow parking across the road at the Tim Hortons plaza. Click here for google map

What is the Sunday service like?
Never been to church? Never been to the Salvation Army Community Church? Been away from church for a while? …no worries. Expect a warm, friendly welcome at the front doors, and a worship service full of traditional and modern music that lasts about 70 minutes …depending on how the spirit moves in the service. In order to keep people comfortable & safe during covid, please register before coming so we can keep congregation numbers at levels we can socially distance for seating. Also, you will be asked the regular covid questions upon arrival, and we ask everyone wear a mask during the service, even while singing. Doors open at 10:30am & the musical prelude to the 11am church service starts at 10:50am. Sermons are topical and applicable to everyday life. We conclude the service by having you exit starting from the back row to help maintain social distancing. We help others feel inspired and look to the future, anticipating a life that honours God. As a Bible believing Christian Church, we aim to connect people to Jesus Christ and to each other through worship, fellowship and service in our community.
What is the music like on Sundays?
The Salvation Army believes in lots of music to help praise and worship the lord. We do that through adult and youth musical groups that participate on Sunday services and other musical events. Most often you will experience the adult Brass Band, Choir, and modern Praise and Worship team, but usually once a month the youth and children's brass bands, choirs, or timbrels might be adding to the worship service …they all exist to use their vocal, instrumental and technical abilities to exalt and magnify the Lord, encourage God's people to worship the Lord, prepare hearts to respond to God's word, provide both traditional & contemporary tones to church worship. Every member of each music team is committed to using his/her skills with the primary purpose of giving God the glory, honor and praise that He deserves. As the bible says: "Speak to one another with psalms, hymns, and spiritual songs. Sing and make music in your heart to the Lord" Ephesians 5:18-19, and "Make a joyful noise unto the Lord" Psalm 100:1
Youth on Sundays?
Whether your child is a preschooler, in high school, or anywhere in between, we love what is going on here at the Salvation Army with the youth and we welcome newcomers! Parents and their children in grades up to 7, spend the first 45 minutes in the Sunday service as a family for lots of worship music, before going to classes at sermon time. All children are kept in class until their parents pick them up at the end of the service. Keep in mind we have weekly jr youth groups and senior youth bible study/fun time Sunday nights 6:30-8:30pm. We have 2 youth pastors who love getting to know your child and we offer a variety of age-specific, fun, God-centered programs to keep them in great peer relationships and growing in their relationship with God. All our programs aim to teach young people, age appropriately, about the fundamentals of Christian faith, what it means to be a Christian, how we live that out in our daily life, and what it means to be a Christian in The Salvation Army. It's wonderful that the youth have a close relationship with our youth pastors, that they feel they can share anything, anytime, and receive Godly mentoring in return. No matter what age your child is and whether or not you attend our church, we would love to have them be part of this ever-growing ministry!
On-Site Supervised Nursery/Toddler Room on Sundays?
Parents and babies/toddlers are encouraged to enjoy the service in the sanctuary with everyone else, but as we all know kids will be kids even during church time. We have a paid early childcare worker on duty during Sunday services so you can drop your child off in the nursery/toddler room and enjoy the church service. Should they need to reach you during the service they will text you.
What do I wear?
Whatever you like is the short answer. Some get dressed up, some come dressed casual, and some come in their Salvation Army uniforms. Did you know that the uniform that some of the regular attenders wear, has been a wonderful way over the past 130 years in Oshawa, for the public to identify Salvation Army church members and strike up conversations or have their questions answered.
What type of people attend?
We're a church for everyday people, where you can come as you are to connect with God in a way that makes sense. Whether you're exploring the Christian faith or a church regular, there's something for you. If you wish to begin to build relationships with people who care, a place to belong to a community of faith, and a place to become a person of purpose …this is a place for you too. Everyone is invited and everyone who comes through our doors gets loved by us just as they are by God. We're not perfect, in fact we're all broken people, but we try not to hide our brokenness, not to discriminate against anyone for any reason and not to reject others in their brokenness. We seek to walk together in brokenness knowing that the love of God and our mutual love and acceptance will lead us to wholeness. A warm welcome awaits you to our church family. Please join us at any time. Call our office with any inquiries or should you wish a visit from our pastors (905 436-0011). Our church seeks to lead people into a life-changing relationship with Jesus Christ. We want to be known as a church with a huge welcome mat.
How long has the Oshawa church been active?
Our church has been in Oshawa since 1884. Click here for more on our Oshawa history
What Denomination is the Salvation Army?
The Salvation Army stemmed from the Methodist church, mainly to worship God and spread God's love through serving more in the community. Click here to see what we believe
What else does the church do in Oshawa …downtown?
With our heart to God and hand to man, our church also has a downtown ministry that offers practical assistance to individuals and families not only in Oshawa but throughout Canada and in 128 countries throughout the world. Last year in Canada over 1.7 million people were helped. In Oshawa we help those less-fortunate with food, clothes and furniture. Our mobile outreach team provides hot meals weekly in the Oshawa downtown core. Other programs include our Christmas Toy and food hamper distribution, children's camps and our community garden. We also are able to offer counselling for: abuse, addictions, anger, depression, grief, theft, parenting skills, low self esteem, as well as spiritual guidance. Our ministry gives us the chance of Giving Hope Today to those that access our services.
Why does the Salvation Army offer so much help to the disadvantaged?
Our church and many of our regular attendees do what we do because we are a people who have been loved by God, and who love Jesus. That means that every salvationist, each one who wears that uniform, and many who don't wear it, has experienced God in a personal way and has a personal relationship because of the gift of His only Son.God's word says this: "Therefore, as God's chosen people, holy and dearly loved, clothe yourselves with compassion, kindness, humility, gentleness and patience. Bear with each other and forgive one another … Forgive as the Lord forgave you. And over all these virtues put on love, which binds them all together in perfect unity." (Colossians 3:12-14 NIV) Service doing good to those disadvantaged is the overflow of discipleship. It seeks to extend God's grace and mercy to others for His glory and not our own. We serve as an expression of love and stewardship of grace, marked by humility, generosity and hospitality. Click here for more on this
Can I volunteer?
There are many volunteer opportunities downtown at the food bank, thrift store and at the church in small group ministries. At the church there are many groups that gather to get things done with great fellowship along the way: Community garden, Church gardening, Kitchen helpers (coffee/tea/food), Greeters, Ushers, Media team helpers (video cameras and audio/streaming), Sunday Prep (folding bulletins/Welcome folders), Tuesday night canteen truck for homeless. At Christmas there is a great need in our church gym as we prep the huge Oshawa toy drive, and standing on the Christmas kettles at the shopping centres. Just call the office if you have the time and interest 905-436-0011
How can I meet new people?
You will meet many people before and after the church service, helping out volunteering in small group ministries, in small group bible studies, and on Sunday nights at larger group bible studies. Mondays we meet up for ball hockey at night, and daytime gatherings are available for men and women too. Every Sunday we have drinks before and after the church service to help facilitate social time. Our welcome centre has all the info on weekly programs for you to participate in. Just let us know if you wish to attend any of the above, or if you have an idea for a new small group to establish here at church or a bible study at your home.
Why even go to church?
Would you like to have more meaning, understanding and purpose in your life? How about having good reason to worry less? Greater joy, love, appreciation, companionship, a personal relationship with a believable God who actually speaks to you and listens to you …has your best interests at heart? How about having a greater interest in helping others and in turn receiving much joy and appreciation in return. People even pray for you more often. Even Time magazine in 2018 concluded that people who go to church live longer (33-55% less likely to die over the 18 year study) due to the reasons of focused prayer and "having that sense that you're not in the world alone, that you are part of a power larger than oneself, giving one confidence to deal with the issues of life." We simply weren't meant to go through life alone, and God didn't put you on earth to live a self-centred life. His purpose for you is to build your life with him at the core, we were made for relationship with God, and for relationship with each other. Meeting at church helps you centre your life on God through worship, learning and prayer. Give it a try, and if you tried church before and you didn't get anything out of it, you may have changed just as we know we have over the years. We invite you this Sunday here. Click here to read the Time article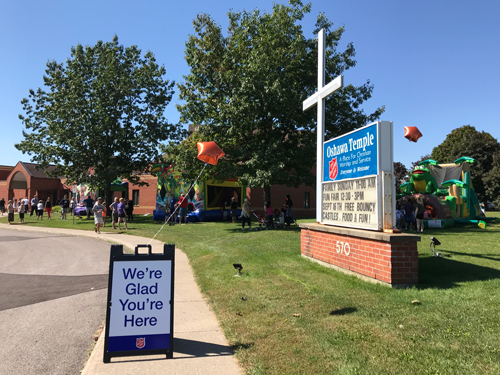 For more Frequently Asked Questions on How the Salvation Army Differs from other churches …Click Here
For more on Our Beliefs and our Mission …Click Here