O little town of Bethlehem,
How still we see thee lie!
Above thy deep and dreamless sleep
The silent stars go by.
Yet in thy dark streets shineth
The everlasting light;
The hopes and fears of all the years
Are met in thee tonight.
O morning stars together
Proclaim the holy birth,
And praises sing to God, the King,
And peace to men on earth.
For Christ is born of Mary,
And gathered all above,
While mortals sleep, the angels keep
Their watch of wondering love.
How silently, how silently
The wondrous gift is given!
So God imparts to human hearts
The blessings of His Heaven.
No ear may hear His coming,
But in this world of sin,
Where meek souls will receive Him, still
The dear Christ enters in.
O holy Child of Bethlehem,
Descend to us, we pray;
Cast out our sin and enter in,
Be born in us today.
We hear the Christmas angels
The great glad tidings tell;
O come to us, abide with us,
Our Lord Immanuel.
In this version of the lovely old carol, the two four-line sections of the second verse have been interchanged, differing from the traditional version. This is done in some song or carol books, including the Salvation Army's 2015 Song Book, and perhaps the words make more sense in this order. They were written by the prominent 19th century clergyman, Reverend Phillips Brooks.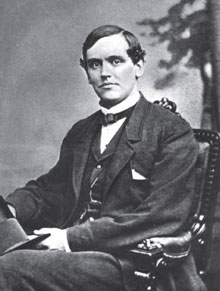 A little before Christmas in 1865, Reverend Brooks was travelling in the Holy Land. As he rode on horseback from Jerusalem to Bethlehem, the town came into view, inspiring him to write the lyrics of this carol. Not until three years later did he put pen to paper, however. He intended the song for use by the Sunday School children at his church in Philadelphia. Brooks asked his very capable organist, Lewis Redner, to write the music. The tune is called St. Louis, according to the wish of Reverend Brooks to honour Lewis, but it is not known why the names are spelled differently. Alternate tunes are sometimes used. One is Forest Green, an English folk tune arranged by Ralph Vaughan Williams. Another was written by Henry Walford Davies and titled Christmas Carol . No matter which tune we use, how beautifully this carol brings us close to the scene and the atmosphere into which Jesus was born!
WORDS: PHILLIPS BROOKS MUSIC: LEWIS REDNER
S.A. SONG BOOK, 2015 EDITION, #118; 1987 EDITION, #86
REFERENCES: HOWES, IAN, CELEBRATION MORNING; S.A. WEBSITE: usawest.org; ALSO: Hymnary.org