Follow On
1) Down in the valley with my Saviour I would go,
Where the flow'rs are blooming and the sweet waters flow;
Everywhere He leads me I would follow, follow on,
Walking in His footsteps till the crown be won.
3) Down in the valley or upon the mountain steep,
Close beside my Saviour would my soul ever keep;
He will lead me safely in the path that He has trod,
Up to where they gather on the hills of God.
In telling this hymn's history, Robert Morgan begins with the following statement:
"Someone has said that when God closes a door He always opens a window. What we don't realise is that the window is often much bigger than the door."
In a previous post on this blog site, we learned that this was true of Charles Wesley, who blessed more people with his hymns than with his preaching. Such was also the case with William Cushing,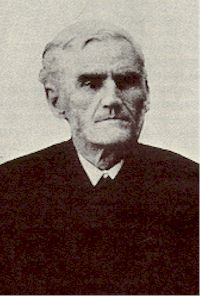 who wrote "Follow On" in 1878. Cushing was born in 1823 and became a Christian as a child. He served twenty years as a faithful pastor in New York cities and towns. In 1870, his wife died, and his own health deteriorated. He suffered a paralysis that affected his voice and made it very difficult for him to preach. He then experienced depression, but eventually, in resignation, prayed, "Lord, give me something to do for Thee." Soon he began writing hymns, especially some for children.
When He Cometh is a favourite and well-known one of these.
Subsequently, William Cushing wrote over three hundred hymns. He later told Ira Sankey, another great hymn writer, that Follow On was written out of his desire to give up everything to the Lord's will, but that he felt much of the power and usefulness of the song was due to Robert Lowry's melody. Ira Sankey stated that Cushing's hymns had blessed tens of thousands of people – more than his preaching could have ever done. Yes – the window was bigger than the door!
Words: William O. Cushing Music: Robert Lowry
S.A. Song Book # 483 Section: The Life of Holiness – Consecration and Service
Reference: Robert J. Morgan, Then Sings My Soul – Book 2