I am so glad that our Father in Heaven
Tells of His love in the Book He has given;
Wonderful things in the Bible I see;
This is the dearest, that Jesus loves me.
I am so glad that Jesus loves me,
Jesus loves me, Jesus loves me,
I am so glad that Jesus loves me,
Jesus loves even me.
Jesus loves me and I know I love Him;
Love brought Him down my poor soul to redeem;
Yes, it was love made Him die on the tree;
O, I am certain that Jesus loves me!
If one should ask of me, how could I tell?
Glory to Jesus, I know very well;
God's Holy Spirit with mine doth agree,
Constantly witnessing Jesus loves me.
O, if there's only one song I can sing
When in His beauty I see the great King,
This shall my song in eternity be:
O what a wonder that Jesus loves me!
In this assurance I find sweetest rest;
Trusting in Jesus, I know I am blest;
Satan, dismayed, from my soul now doth flee
When I just tell Him that Jesus loves me.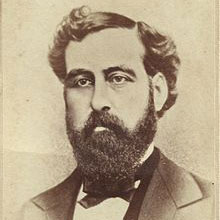 Because Philip Bliss began his life in a Pennsylvania log cabin where prayer and music were very important to his family, he was drawn to Jesus and music in his early years. One day when he was ten years old, selling vegetables door-to-door, he heard music different from any he'd heard before – a piano being played in an elegant home. He slipped into the parlour without being seen, and when the woman stopped playing, Philip said, "Oh, lady, please play some more!" The perturbed woman shouted, "Get out of here with your big, bare feet!"
"Get out of here with your big, bare feet!"
Click To Tweet
In spite of this scolding, the piano's strains encouraged Philip's love of music and his desire to become a musician, although he worked in lumber camps as a log cutter and sawmill worker for some years. In 1859, he married Lucy Young and worked for a year on her father's farm. Lucy encouraged his musical dreams, and her understanding grandmother gave him money for music classes. Soon afterwards, on horseback, with a melodeon, Philip began to travel about teaching music and leading singing schools. Somewhere in this period, he also wrote music, and had his first song published in 1864. He quickly became one of America's most prominent Gospel hymnwriters.
In 1870, Philip became a staff member of the First Congregational Church in Chicago. One evening when he was feeling quite weary, he was uplifted by the words of Paul in Romans 5:5 – "The love of God has been poured out in our hearts by the Holy Spirit." That's when he began writing the above song, which he taught to children in his church the following Sunday. Perhaps he recalled the unpleasant scene from that parlour in his childhood. Adults as well as children can delight in knowing, "Jesus loves even me!"
delight in knowing, "Jesus loves even me!"
Click To Tweet
WORDS AND MUSIC: PHILIP P. BLISS
S.A.SONG BOOK, 2015 EDITION #805, 1987 EDITION #323
REFERENCE: MORGAN, ROBERT J., THEN SINGS MY SOUL
Here's an insrumental version with variations and improvisation – ENJOY