Give to the winds thy fears;
Hope and be undismayed;
God hears thy sighs and counts thy tears;
God shall lift up thy head.
Through waves and clouds and storms,
He gently clears thy way;
Wait thou His time; so shall this night
Soon end in joyous day.
What though thou rulest not?
Yet Heaven and Earth and Hell
Proclaim God sitteth on the throne,
And ruleth all things well.
Far, far above thy thought
His counsel shall appear,
When fully He the work hath wrought
That caused thy needless fear.
Let us in life, in death,
Thy steadfast truth declare,
And publish with our latest breath
Thy love and guardian care.
This hymn was originally written in German in 1656 by Pastor Paulus Gerhardt, and in 1737 translated into English by John Wesley – something he liked to do for his English Methodists. Note that the final verse is addressed to God, whereas the other verses speak to us humans. Gerhardt may have needed to repeat to himself his lyrics, as four of his five children died, followed by his wife, and he also lost his high position in Berlin.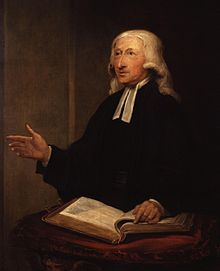 John Wesley knew his share of "waves and clouds and storms". He experienced, with his brother, Charles, little success in their missionary venture in America and had to return to England in humility. He also suffered some illness and a broken romance, as well as several disputes with Charles. It's hard to believe that over three hundred and sixty years have passed since the hymn was first written, yet still its words bring challenge and comfort to us today.
WORDS: PAULUS GERHARDT/JOHN WESLEY
MUSIC, TUNES – LASCELLES: FRANCIS DUCKWORTH; SOUTHPORT: JOSEPH DAVIS
S.A. SONG BOOK, 1987 EDITION, #721; 2015 EDITION, #643
REFERENCE: MORGAN, ROBERT J., THEN SINGS MY SOUL, BOOK 2